MEMRLTA NEWS & LADDERS
Life Member Judy Lambert Retires from the Committee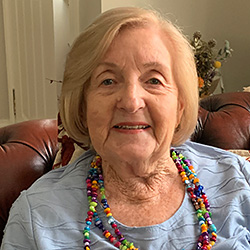 After 30 years on the MEMRLTA Committee, Judy Lambert has 'retired' (but knowing Judy, she will keep very busy!). We will miss her wisdom and very practical approach to each and every issue we consider.
Her kindness to all, eagerness to help teams with all sorts of concerns, and positive enthusiasm for all things MEMRLTA will never be forgotten.
Judy held many positions including President (6 years), Vice-President (2 years), and Record Secretary (15 years). She was awarded Life Membership in 2013.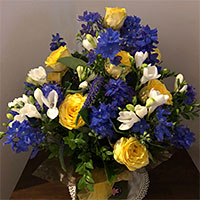 Judy was also a very active member of the Bennettswood Committee before Bennettswood and Blackburn South Tennis Clubs joined to form Eley Park TC - of which she is a very active member.
Unfortunately, we could not farewell Judy in person as our AGM was held over Zoom. We did, however, send flowers to her home, and Judy requested that we post this photo of them.
Farewell but not good-bye to Judy!
Tennis Has Recommenced!
Section 9 please note that as of December there are now two byes in your section. We highly recommend that the two teams with a bye meet for a Friendlies Match with each other for that round.
Sections 1 & 2 please note that as of Wednesday 17 November there have been, yet again, more changes to your fixtures.
The remainder of the Season will be played similarly to how we played earlier this year, (following our return to play in February!), i.e. ARRIVE, PLAY, LEAVE.
There are a few Clubs who require all players attending their courts to be fully vaccinated: Camberwell United, Kooyong, OLGC, St Cecilia's and Serpell. Only take a team to these HOME courts who are fully vaccinated (COVID) and have a vaccination certificate to show on arrival. It will be mandatory for the certificate to be sighted. If a visiting team cannot field a fully vaccinated team for a match against a home team whose club requires all players to be fully vaccinated, the visiting team will need to forfeit.
If there are any issues or queries, please contact Christine Youings (President) on 0418 143 451‬.
Revised Fixtures
As we restart, there have been a few changes to the Fixtures for Sections 1, 2, 5, 6, 7, and 8. This is because of team withdrawals. In Sections 5, 6 and 8, Croydon, Ferntree Gully and Heatherdale (respectively) will be re-joining competition in our next season. Kooyong TC advised us of the inability of their Section 1 teams to restart competition until next Season.
Friendly Matches
In an exciting addition to this season for Sections 1, 2, 5, 6, 7 and 8), we have drawn up a fixture of Friendly Matches for teams with no opposition each week for the remainder of this season.
The Friendly Matches are optional, but we strongly urge ALL teams to enjoy being able to play tennis each week! The draw for the Friendly Matches can be found in the Fixture pages of this website – click through to your section.
The Friendly Matches will not count to the main ladder for each section, BUT there will be a prize for the team in each section which wins the most games during these matches. The results (just scores from each set; no players' names) will need to be emailed to Christine (President) at – they will not be able to be entered on Match Centre.
COVID-Safe Procedures
During our Winter Season 2021, Clubs will still have in place COVID-19 regulations, either set down by their Board of Management and/or their Local Government Authorities (LGA), which of course must be adhered to.
The Executive Committee would like to bring to your attention the following:-
QR code into EVERY CLUB, EVERY TIME, or physically sign in. Your Vaccination Certificate may be required to be sighted.
Please note that some Clubs may require everyone (players and spectators) attending their courts to be fully vaccinated.
Spectators ARE allowed at the courts but density limits require that no more than 30 people are allowed in one area.
Clubhouses are to be entered only to use the TOILET or change room facilities.
Food and drinks must not be shared – please bring your own snack and drinks to all matches.
MEMRLTA, at present, is advocating NO sharing of drinks or meals in the clubhouse.
Remember to hand sanitize regularly. After every set, after bagging the courts and sweeping the lines.
Acknowledge the end of each set with a racquet tap and not a hand shake.
Bagging the courts should be done by ONE person at each end of the court – no handing the bag under the net!
We all have different levels of anxiety regarding COVID-19 and returning to competition tennis, so please be respectful of everyone's concerns.
Players Wanted
Please encourage members of your Club to join the MEMRLTA Emergency Pool. We especially need Pool Players for Sections 8 & 9.