MEMRLTA is a Tuesday women's doubles inter-club tennis competition in the Melbourne eastern metropolitan area. New teams and players welcome! Learn more >
MEMRLTA NEWS & LADDERS
Life Member Judy Lambert Wins Award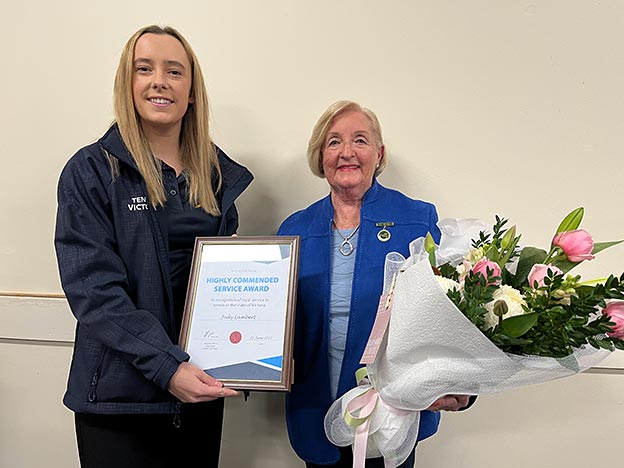 Madeline Bosanko from Tennis Victoria presented Judy Lambert with her award
MEMRLTA Life Member Judy Lambert was presented with the "Highly Commended Service Award" by Tennis Victoria at the 2022 MEMRTA AGM. This award recognises those who have demonstrated their contribution to the sport of tennis through outstanding and exemplary service to any one or more of Tennis Victoria's affiliated tennis clubs and/or associations and/or member organisations.
Judy was a member of the MEMRLTA Committee for 30 years. She took on many jobs during that time including President and Vice President but was best known as being the Record Secretary, a job she loved doing.
In addition to the time she devoted to MEMRLTA, she was also a very active member of Bennettswood and Eley Park Tennis Clubs. At Bennettswood TC, she was Treasurer and then the Social & Fundraising Convenor.
Congratulation to Judy on an award well deserved!
2022 AGM
The MEMRLTA 2022 AGM was held in person(!) on 21st June. Lunches were discussed, amendments to our by-laws were discussed and voted on (some passed, some not), condolences given to the passing of former teammates and friends, and the 2022/23 committee was elected. See the AGM for more details.
Notice for all Captains
If you are going on holidays or are otherwise unavailable, please provide the contact details of the person acting as captain in your absence to your opposing captains for that time period.
Notice for all Section 6 Teams
As of Round 12, the Section 6 MCC Glen Iris team has withdrawn from the remainder of the season. As per By-Law 13c, "in the event of a team withdrawing from the competition during the season, all premiership points and percentage scored in respect of the matches against that team shall be cancelled."
There are now, unfortunately, two byes in this section. When your Section 6 team has a scheduled bye, we strongly recommend that you contact the other team with a scheduled bye for that week to arrange a friendly match which can take any format you wish.
Scoresheets
We do not have any scorebooks left and will not be printing any more. Instead, you will need to download and printout your own scoresheets.
Downloading scoresheets
You can download and print a scoresheet from two locations:
The Resources page on this website – This is a generic scoresheet that can be used for any match.
Match Centre – Login to your Match Centre account. Under 'Upcoming Matches' click on 'Match Details' and then 'Print Scorecard'. A PDF of the scoresheet for your upcoming match will download for you to print. This scoresheet is specific to that match as it lists the team names and names of the players for each team.
Players Wanted
Please encourage members of your Club to join the MEMRLTA Emergency Pool. We especially need Pool Players for Section 8.