MEMRLTA is a Tuesday women's doubles inter-club tennis competition in the Melbourne eastern metropolitan area. New teams and players welcome! Learn more >
MEMRLTA NEWS & LADDERS
Ferntree Gully Tennis Club and Ann Bailey Win Awards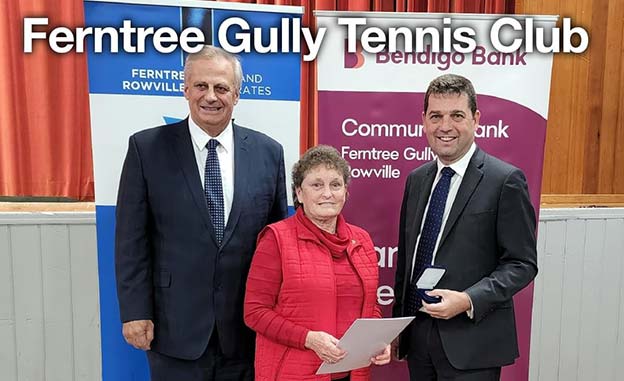 Congratulations to Ann Bailey of Ferntree Gully Tennis Club who recently received a Victoria Day Award. Ann was nominated by her Tennis Club for her services with The Club over the last 30 years and as a Treasurer since 2004, also with fundraising activities, helping keep their Midweek Ladies' teams going, and generally helping her Club, and now with their All Abilities Program to progress.
At the recent Victorian Sport Award night, FTGTC was presented with The Peter Norman Inclusion Award for their All Abilities Program. The Club had worked on the initiative for 18 months, persevering thru the lockdowns. And with the help of Tennis Vic, Knox Council, Special Olympics Australia, co-designed a program with and for people with all abilities to play tennis. They hope this will assist Tennis Victoria to support other Clubs in the future. Congratuations to FTGTC – striving to be a Fun, Active and Inclusive Community Club!
Team Entries for Summer 2022/23 Season Now Open!
Club Contacts have been sent details for entering teams for next season. Closing date is Tuesday 16 August (the last round of this season). The Summer Season commences 6 September.
Match Results for Last Round of Season (16/8/22)
A reminder to all home teams that the results of the last match of the season must be submitted online into Match Centre by 8pm the day of the match (Tuesday 16/8/22 instead of by Wednesday). This is so that the fixture for the semi-finals can be created and sent out to all teams and posted on this website more quickly.
Players Wanted
Please encourage members of your Club to join the MEMRLTA Emergency Pool. We especially need Pool Players for Section 8.