MEMRLTA NEWS & LADDERS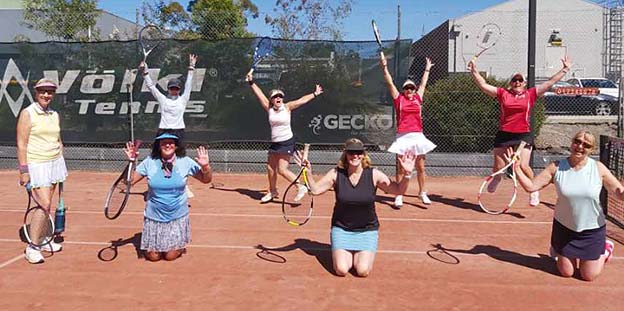 Happy to be back at tennis!
See more photos on our facebook page!
Changes to the Summer 2020/21 Season
A committee ZOOM meeting was held Sunday morning (14/2) to discuss all things relating to Covid and our current season.
As a Committee, we will continue to be flexible around the COVID restrictions and at all times, keep you and our members informed of MEMRLTA's decision making.
With that in mind, we wish to advise the following:-
There will no tennis matches on February 16th, which was Round 3.
Round 3 will now be played on March 23rd (after Round 7) – which means that the Semi Finals will not be played.
The Grand Final matches will still be played on March 30th and will be contested by the teams that finish 1st and 2nd on the end of Season ladder. Pennants and trophies will still be awarded.
If the current lockdown is extended by another week, Round 4 will then be played on March 30th and the Grand Final will not be played. Pennants and trophies will not be awarded.
We will not extend the Summer Fixture, as we want to begin the Winter Season, as planned, on April 20th, to enable us to return to a ten team draw.
These decisions have been made to enable ALL of our members to play the maximum amount of tennis possible in the weeks allocated to the Summer Season, prior to the School Holidays starting.
The Committee also discussed matters pertaining to the Winter 2021 Season. We will advise you of these matters when we know how our current Season will conclude.
To all our Members, as a Community, we supported each other through last year and we will do so again.
Please take care and above all else, STAY SAFE.
COVID-Safe Tennis
During our 'COVID-19 Normal' Summer Season 2020/21, most Clubs will have in place COVID-19 regulations, either set down by their Board of Management and/or their Local Government Authorities (LGA), which of course must be adhered to.
Please also be familiar with MEMRLTA's COVID-Safe Plan and Recommendations.
Team Entry Forms & Cards for Winter 2021 Season
Team Entry Forms for the MEMRLTA Winter 2021 Season have been sent to all Club Contacts. Entries must be received by the Secretary, Fiona Dwyer, by Tuesday 23rd March 2021. Spare copies can be downloaded from our resources page.
Players Wanted
Please encourage members of your Club to join the MEMRLTA Emergency Pool.
Willison Park is looking for a player to join their section 9 team. Contact Jan Slater 0434 142 391.
Ladders for Downloading & Printing