HOW TO CONFIRM OR DISPUTE MATCH RESULTS
Login to Match Centre by going to:
https://leagues.tennis.com.au
Step 1
On your Dashboard, scroll down the page to the section titled 'Your Previous Match' and click on 'VIEW'.
If there is no 'Your Previous Match' section on your dashboard or it is the wrong match, it might mean that your login account is not linked to your Player Profile. For help, use the Live Chat function in Match Centre or contact the Tennis Australia help line:
1800 752 983 (option 2: Tennis Support Systems).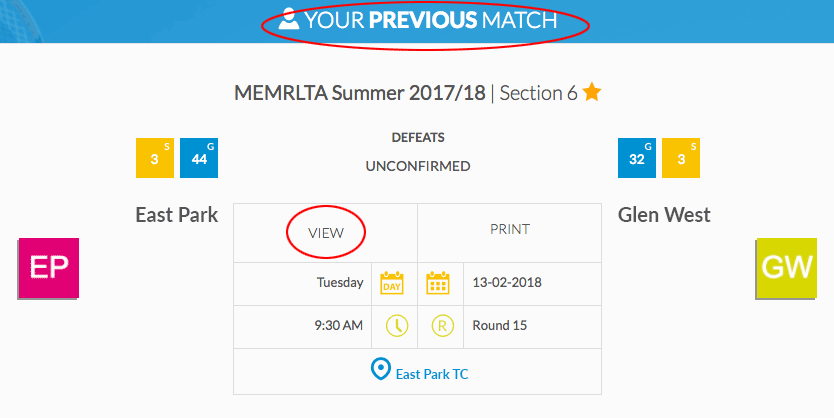 Step 2
Click on the 'Edit' button OR click where is says "Please confirm or dispute the result here.
Note: If match results have already been made official, the 'Edit' button will not appear. If a correction needs to be made or more information added, you will need to contact the Record Secretary, Jackie Aslett, on ‭0412 032 512 or BEFORE 8pm Thursday following the match.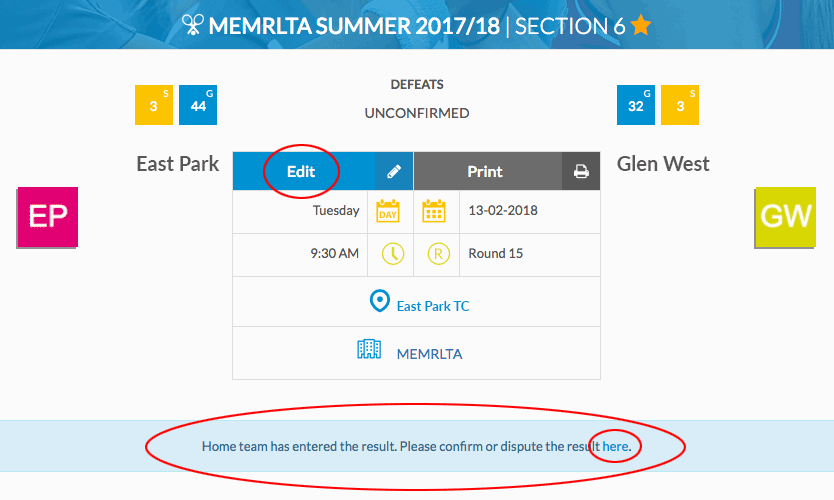 Step 3—Review Results
Review the scores and results at the top of the page.
Scroll down and for each set review the names of the players, the position each played and the scores.
Note for sets partially or completely forfeited: If a set was partially or completed forfeited, the scores entered should be the games actually played and there should be a note in Match Comments explaining why the set was forfeited. The system will automatically add the additional score to the total score of the team receiving the forfeit. For example, if the game score was 5-3 when a home team player retired injuried and no substitute took her place, '5-3' not '5-8' should appear as the set score. The system will add 5 games to the away team's overall game score.
At the very bottom of the page select 'Confirm Scorecard' or, if something is not correct or complete, 'Dispute Scorecard'.

If you confirm the scorecard, you will also be able to add a comment or additional information that may be missing such as registration details and playing history of a new emergency player.
If you dispute the scorecard, you will be asked to provide a reason.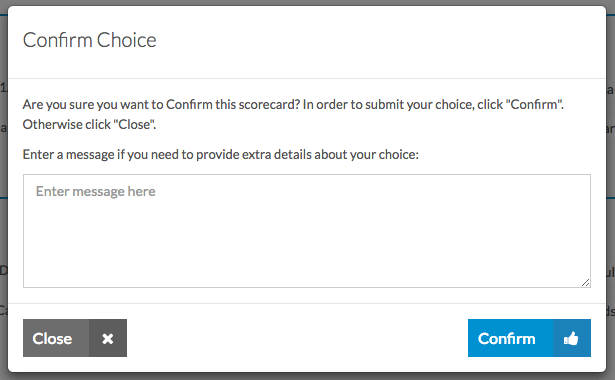 When you are finished, the status of your match will now show as 'unofficial'. See explanation of match status below.
Match Status
Before match results are entered, the match will be shown as 'SCHEDULED'.
Once the results have been submitted, the results will be shown as 'UNCONFIRMED'.
When results have been confirmed by the opposing, the results will be shown as 'UNOFFICIAL'.
Then when the Record Secretary has reviewed and accepted the results, the match results will be shown as 'OFFICIAL'.